Samsung 2014 Display Lineup Preview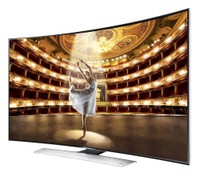 When we saw all the new 4k curved displays at CES, we were afraid that much like 3D, this new "feature" was going to be shoved down our throats. Samsung has allayed our fears with their new 2014 line of displays. While many are curved, some aren't. Prices and screen sizes are large but there is a lot of technology in these 4k displays. On top of this Samsung hasn't abandoned 1080p with two new lines – one of which is curved as well.
Vizio E-Series LED Displays Preview
Vizio's new E-Series continues their tradition of low prices and dropping 3D. Sporting models from 23- to 70-inches, the E-Series runs the gamut. The smaller models have edge-lit backlighting, while others have normal LED backlighting. Smart models all have built-in Wi-Fi and smart TVs 39-inches and larger have local dimmable backlighting. While the number of dimmable areas might not impress (from 5 to 16 depending on model), it is better than nothing. Priced between $160 and $1700, these displays are sure to sell well.
Acer K272HUL 27″ WQHD LED Display Preview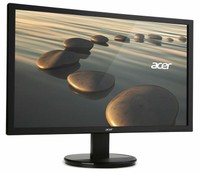 We like seeing displays that can be used in your bedroom or your office. The 27″ Acer K272HUL has a better-than-1080p WQHD resolution, 16:9 aspect ratio, two HDMI inputs, and integrated speakers. While its intended use is certainly at a desk, the K272HUL has everything you'd need to watch movies. As more people are using their computer monitors for gaming or other content, having a good all-purpose display is a must. At $450 MSRP, the Acer K272HUL certainly fits the bill. We're curious to see what the street price ends up being on this one.
VIZIO P-Series Ultra HD Displays Preview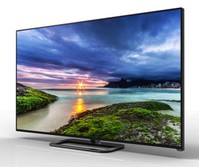 The VIZIO P-Series looks top-notch with an Ultra HD panel, 64 areas of dimmable LED backlighting, 802.11ac dual-band MIMO wireless connection, H.265 codec support for 4k streaming, and a variety of sizes. What it doesn't have, and it seems no future VIZIO displays will have either, is 3D. While pricing hasn't been announced, historically, VIZIO has tried to undercut the competition. We can't wait to see what they come up with for the P-Series.
AOC Q2963PM 29″ 21:9 UltraWide IPS LED Monitor Review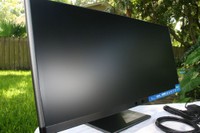 The AOC Q2963PM is an ultra-wide, 29″ IPS LED display monitor with a 21:9 aspect ratio. That is like having two 4:3 monitors side by side. It will accept two sources and show them to you Picture-in-Picture or Picture-by-Picture. It performed admirably on our HQV tests, it has integrated speakers, HDMI and DVI input (both cannot be active at the same time), and a D-Sub or DP input for your computer. It sports a fairly innovative pivot plate that allows up to 25 degrees of movement on the stand or on a wall mount. While we did find some idiosycracies, all in all, it is an excellent monitor. The only problem is the price. At $500, it certainly isn't cheap and you could easily pay less for two 16:9 monitors of similar sizes.
Samsung PN51F8500AF Plasma TV Review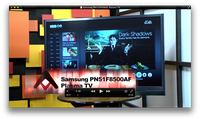 I love plasma TVs. I love how black the blacks get. I think that LCD has gotten tremendously better over the years, but when I come back to plasma it just reminds me of how good television can be. But this isn't a plasma TV technology review, it's a review of Samsung's latest and greatest television, the PN51F8500. This is the best plasma TV Samsung has ever released. In fact, it's probably the best plasma TV we've ever reviewed. In fact, it's probably the best TV you're going to see this year. Just let that sink in a bit…
VIZIO M801d-A3 80″ Razor LED Smart TV with Theater 3D Preview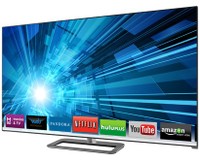 The VIZIO M801d-A3 80″ Razor LED Smart TV with Theater 3D may not have the latest Ultra HD/4k resolution, but it also doesn't have a $25,000 price tag. At just under $4k, you can have 80″ of 1080p resolution, a full suite of network apps, and passive 3D technology for a lot less. With edge-lit LED backlighting and local dimming, 240Hz refresh rate, and more, it seems impossible that only a few years ago, the same $4000 could barely buy you a 50″ with no networking. The VIZIO M801d-A3 80″ Razor LED Smart TV with Theater 3D is probably the best argument we've seen for passing on 4K for the foreseeable future.
Planar UR8450 Series 4K Displays with 1080p x4 Tiling Preview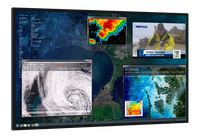 Planar has announced three new 84″ 4K displays. The UR8450LX is your typical display, the UR8450MX can be oriented in portrait as well as landscape, and the UR8450-3D adds 3D with passive glasses. All the displays feature 4k resolution, local dimming LED backlighting, and an energy efficient design. The prices are certainly high but there are not the most expensive sets out there. With very few 4K displays on the market, the ability to provide four 1080p images at the same time natively (something other displays need external hardware for) may be enough differentiation to influence buyers to choose one of the UR8450 displays. As for us, we'll wait a few years until the prices come down to a more reasonable level.
AOC Q2963PM 29″ 21:9 Super Wide Screen HD Monitor Preview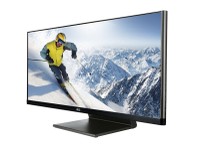 The AOC Q2963PM has a extreme aspect ratio (21:9) with a 29″ diagonal measurement. But instead of just giving you a lot of screen space and letting you figure out what to do with it, AOC has really packed the Q2963PM with features. With their Screen+ software, you can do both PiP and PbP from different inputs. A MHL HD input mirrors your Android phone while charging it, and Display Port 1.2a allows you to daisy-chain multiple screens together as you see fit. With an IPS LCD screen, 5ms response time, and a 1000:1 (typical) 50,000,000:1 (dynamic) contrast ratio, this is a display that will do equally well with entertainment and work duties.
Samsung PN51F4500 & PN43F4500 Plasma TV Comparison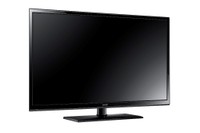 Samsung's F4500 series of plasma TVs rounds out their entry level offerings and consists of only two models, the PN51F4500 and PN43F4500. As you might be able to tell from the models numbers, the two sets are 51" and 43", respectively. The F4500 series is one of the least expensive plasma TV lines you are going to find. That's because it's only 720p and lacks any smart features, like WiFi or internet apps. However, it still retains Samsung's Clear Image panel for better use in well-lit areas and a nearly flawless 178 degree viewing angle. It also has two HDMI inputs, a USB port for viewing photos/movies, and 600hz Subfield Motion.
Samsung PN64F5300, PN60F5300, & PN51F5300 Plasma TV Comparison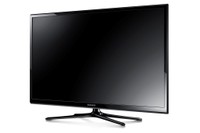 The Samsung F5300 series sits right in the middle of their 2013 lineup and consists of three models, the PN64F5300, PN60F5300, and PN51F5300. In typical Samsung fashion, the first two letters of the model number indicates the type of product (plasma TV), the following two numbers indicate the size (64″, 60″, and 51″), then the year (2013 models use an "F"), and finally the series (in this case, the 5300 series). The F5300 series is nestled in between their flagship F8500 series and entry level F4500 series. It doesn't have any smart features or 3D support, but still retains 1080p resolution. In short, it's a basic plasma TV that should work great for everyday viewing.